Welcome To The
New Mexico Corvette Association
To Protect & Serve (Story Below)
Latest Updates To This Site
EVENTS updated- 9/15/17
NEWSLETTER / MINUTES added - 10/20/17
STORY added - 10/20/17
FOR SALE updated - 10/14/17
PHOTOS OR VIDEO added - 7/18/16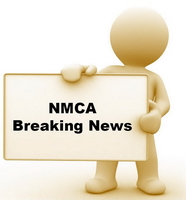 RE: Scotty's Southwest Corvettes - This shop has been closed and employees dismissed. If you have a car in this shop, have an ongoing claim or issue - please contact the estate administer Doug Weisel at 602-321-7807. He is in Albuquerque (AZ phone number).

NMCA 2017 Awards Banquet Information

NMCA Participation Award 2017 - click here for details



To Protect & Serve
Symbols of appreciation come in many forms, from a simple verbal 'thank you' to a hand-written note to a random act of kindness. But for the family of a Nicholasville, Kentucky police officer the token of appreciation had a deeper, more heartfelt meaning for both them and those involved in the project.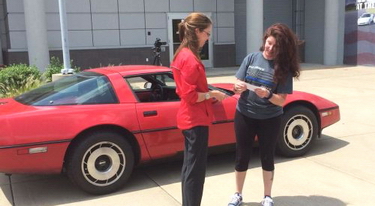 The National Corvette Museum received a phone call in July, 2016 from Melissa Rhoads. Her husband, Burke, was an avid Corvette fan, having purchased a 1984 that he had slowly been restoring as time and finances allowed. He had promised their daughter, Jacquelyn, that she could take the Corvette to prom when she turned 16. Sadly, Burke was killed in a car accident while on duty for the Nicholasville Police Department in 2015 and the project remained unfinished.

"Our Executive Director, Wendell Strode, received a voice mail from Melissa asking for a recommendation of a shop in her area of Kentucky that could paint her late husband's Corvette," said Katie Frassinelli, Marketing and Communication Manager for the Museum. "We started researching by reaching out to the Bluegrass Corvette Club based in Lexington, and even asked around at the Somernites car show in Somerset, KY. With a project as special as this, you want to make sure the car is in good hands. At some point I thought - why don't we at the Museum head up taking care of this car?"

The idea was pitched to other members of the management team with the thought that the project would symbolize the Museum's support of law enforcement, not just in Kentucky but everywhere. "As a 501c3 nonprofit foundation we typically are not able to take on outside projects… but this was different," said Katie. "We have always tried to extend our gratitude to law enforcement and military with various free or reduced price admission promotions - but to be able to translate that appreciation into a physical act of kindness was very meaningful for our team."

Read the full story

Source: NCM
Submitted by Phil Ellison
10/20/17


Early Production C4 Donated
On Friday, August 4, 2017 the Museum received a special gift - a 1984 Corvette donated as a tribute to the late Don Oliverio of West Virginia. Approximately 40 family members and friends gathered at the Museum to make the presentation and celebrate his life.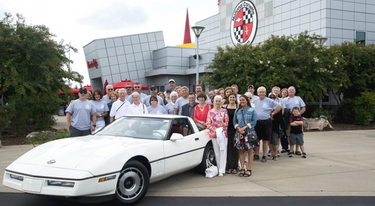 "He was thoughtful and would visit people in the nursing home, even if he didn't know them. That's how kind and good he was to everyone," said Linda Kolisky, Don's sister. "We're so honored that this is going to be here, the thing he loved so much, we're so pleased."

The Corvette was built at the GM Bowling Green Assembly Plant in March of 1983. "It's a spectacular car to have in the collection, especially to be such an early production car of the C4s," said Derek Moore, Curator. "We're really grateful to have it."

Don's granddaughters, Cassidy Oliverio and Kayla Means, had the honor of driving the car into the Museum. "Last year I was in the homecoming court and he drove me in the parade," said Kayla. "He liked any chance he could to show off his car. He would love to see it be in the Museum. He would feel very honored to have it here," she said. "He would love to take it to car shows and this would be considered the ultimate car show!"

Daughter Jamie Oliverio smiles when she shares her favorite memory of her dad's Corvette. "I drove the car once by myself in 1987. I never told him, but I took it up on I-79 and I floored it. He never found out, I don't think," she said. "It's emotional - it's a tribute. He loved the car almost as much as he loved anything, so now I feel like he's going to live on forever."

Read the full story

Source: NCM
Submitted by Phil Ellison
10/13/17


Memories Of Dad
Will Szymanski, Sr. was an all-around car guy, but there was something about Chevrolets - specifically Corvettes - that always stood the model above the rest. His son, Will Szymanski, Jr., naturally being brought up by a Corvette admirer, instantly fell in love with America's Sports Car at a young age. Now 29-years-old, the Corvette gives Will Jr. great memories of his late father and reminds him of all the wonderful times he had with his dad.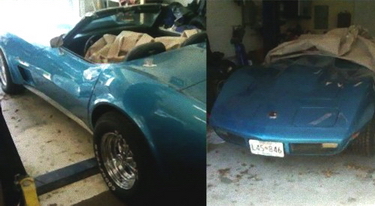 Will Sr. tragically passed away in 2008 in what his son calls a "freak accident." According to Will Jr., his father fell off a ladder and suffered a traumatic brain injury. He was in shock trauma for two weeks before gaining his wings. Just being 20 at the time, Will Jr. said it was hard to lose not only his best friend, but his Corvette buddy.

"My father and I were best friends - we were inseparable," Szymanski, Jr. said. "He always had a passion for classic cars of all kinds, but Corvettes always had his heart."

Back when Will Jr. was in the eighth grade, his father brought home something that he wasn't expecting. When Will Sr. pulled into the Szymanski driveway with a 1973 Corvette Stingray, Will Jr. says "it was game over for me." From that point forward, he and his dad's friendship would grow into a bond that every father and son hope to share.

Read the full story

Source: Tyler Mansfield - NCM
Submitted by Phil Ellison
10/6/17


How To Inspect A Corvette For Rust
This isn't going to be a huge article that drags on for hours and hours, I will cover the areas that you need to look for rust in 1963-82 Corvettes, it will be a basic article designed to help you save money on the purchase of your Corvette.

A Corvette can be a very illusive thing, you think rust, how is that possible it made out of fiber glass, for this article we won't be talking about the body of the car we'll be talking about the frame, and a few other areas of America's sports car.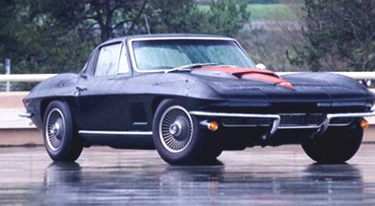 I know you love corvettes, and I do to they are without a doubt a very special car, and considered to be America's only sports car, but when you're buying one what you don't know can hurt you, and it probably will, so it's time for me to lend a helping hand.

Obviously the entire car is not fiber glass, the car sits on a frame made of steel, and steel will rust it that can't be changed, but it can be fixed, so let's dive in to this article head first, if you're thinking of buying a Corvette this will help you for sure.

First of all let's start with the wind shield of the car, it is fiber glass wrapped around steel, and obviously steel will rust, so let's begin by looking around the frame of the wind shield, if it's rusted badly it may show as fiber glass separating from the post at the bottom of the wind shield.

Source: David Atkin - linkedin
Submitted by Phil Ellison
9/29/17


Z06 Owners Suing Chevrolet
The latest-generation Corvette Z06 is supposed to be a track-capable sports car right off the showroom floor. While it was developed alongside the C7.R racer, the Z06 reportedly has an Achilles heel -- its cooling system. Owners have complained in the past that the supercharged Z06 will overheat when pushed to its limits on the track.

Chevy announced a fix for 2017 models, which is apparently backward compatible to the rest of the C7 Z06 Corvettes. However, according to this new lawsuit, even that Band-Aid doesn't stop the overheating issues on current models with automatic transmissions.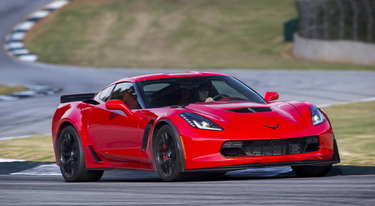 The class action suit was filed June 13th in the District Court for the Southern District of Florida and seeks a solution to overheating Z06 'Vettes from General Motors -- in this case, it looks like the solution owners are seeking is money. Of course, that money can go toward fixing the car's overheating issues.

Read the story

Source: Wesley Wren - AutoWeek
Submitted by Phil Ellison
9/22/17


Save The Wave
It was summer of 2007 and I had just completed the replacement of the interior of my '72 convertible, which I had just purchased in February of that year, and given that the sun was shining under a bright blue sky, decided to take "Dads LT-1" out for its maiden voyage. It was one of those rare mornings in New York where the humidity was low, the wind was soft and gentle and the air was a crisp cool breeze.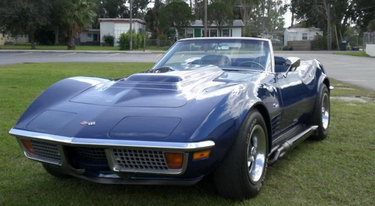 I had not driven the car since purchasing it as I was waiting until I was done doing my upgrading and replacement. So I pulled out the ragtop from the garage, gave it a nice misting of detailing spray, polished the wheels, wiped down the windshield and fired up the rebuilt '70 LT-1 power-plant that was dropped into the Corvette.

After about 20 minutes into the ride, feeling the wind whipping through my hair and enjoying the tunes I was approaching an intersection with a red light. I decided to move into the left turning lane and as I slowly approached the traffic light I dropped the M20 into second gear. I just so happened to look over to my left and noticed two men working on a white C3 Corvette on the driveway. They must have heard the sweet tones radiating from my headers and side-pipes as I was downshifting and both looked up and give me The Wave tagged along with a smile. I immediately returned the favor along with a quick tap of the horn. I then realized that I now belong to an elite group of owners. I promised myself that I will return to that intersection the next season and stop in and say hello to those fellow Corvette owners.

Read the story

Source: Save The Wave (online)
Submitted by Phil Ellison
9/15/17


The 2020 Corvette C-8
The news cycle for GM's mysterious mid-engine car is on an endless loop these days with etched-in-stone talking points that barely budge.

Getting any update from GM or peripheral Corvette sycophants has been hopelessly fruitless so we automotive scribes have been relegated to treading water on the waves of the internet grasping at any piece of news like a chunk of driftwood that might float us to the promised land.

For now, let's say this mid-engine car from GM is a Corvette. Some folks think it's a Cadillac but that's a different battle for another day.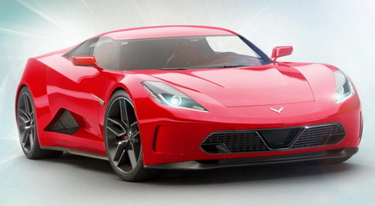 The boilerplate that has emerged for the notion of a C8-mostly from speculation-is as follows: a range-topping, mid-engine supercar with a multi-valve V8 engine and benefitting from a clean-sheet chassis design leveraging everything GM engineering can muster. A "Halo" car that represents the pinnacle of mighty General Motors Design.

What if all that's wrong? What if the new mid-engine Corvette isn't a halo car but an "affordable" stablemate to the existing C7? The first salvo of Corvette as a multi-model franchise?

What if GM is not only going to maintain its' slot as the world's leading sports car maker, but defend its' position AND gobble up more market share by adding a revolutionary supercar sibling to the "standard" Corvette? One that would maintain the current pricing structure of the C7 but literally re-writes the rules-and history-for performance cars forever?

Read the full story & see some great photos

Source: Dave Cruiskshank - Corvette (online)
Submitted by Phil Ellison
9/8/17


All previous news postings can be viewed using the "News" link

NMCA, PO Box 91355, Albuquerque, NM 87199 :: info@nmcorvette.org